Leader Development 360° survey by Denison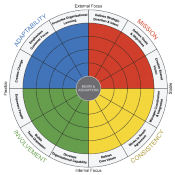 The Denison Leadership Development 360 measures a leader's performance on a set of 12 leadership behaviors linked to high performing business cultures. Based on the Denison Model, this 360-degree assessment benchmarks an individual's leadership and management skills to those of leaders in other organizations. This 96-item survey leverages feedback from a number of different perspectives, including boss/supervisors, peers, direct reports and others. The survey is user-friendly and administered online through a system that allows leaders to personally manage their Leadership Development Survey process. The Denison Leadership Development Survey 360 is offered in multiple languages and takes about 15-20 minutes to complete.
Denison uses normative scoring to present survey results. We compare your survey data to our global database of over 14,000 leaders (from a wide variety of industries, job functions, management levels, and tenures) and tabulate graphical profiles–represented in a Summary Report–that convey the results in percentile scores.
The Denison Leadership Development Survey (DLDS), developed by Daniel Dension, PhD, and William S. Neale, M.A., M.I.L.R., provides leaders and managers with an analysis
of twelve leadership skills and practices that have the greatest impact on bottom-line organizational performance. This instrument is the result of over 25 years of research
by Dr. Denison, formerly of the University of Michigan Ross School of Business, and the International Institute of Management Development in Lausanne, Switzerland. Dr. Denison's
research examines the relationship between leadership, organizational culture, and organizational effectiveness.
In a series of research studies, Dr. Denison found that four leadership and culture traits – Mission, Consistency, Involvement, and Adaptability – can have a significant impact on organizational performance. The survey results are presented in a "circumplex" profile, with a Mission, Consistency, Involvement, and Adaptability quartile. More color in each of those segments represents a higher score in that area.
The DLDS measures an individual's leadership skills and practices as they relate to these key traits. Each individual's scores are benchmarked against a database of leaders from across the globe. The survey provides participants with 360-degree feedback from a number of perspectives including from their supervisor, peers and direct reports. This provides the leader with a comprehensive view of their leadership strengths and potential areas for improvement. The DLDS leverages the Denison Model of High Performance, a model that has been linked to key performance metrics such as profitability, quality, innovation, market share, sales growth, and employee satisfaction.