When women support each other incredible things happen! That is exactly what Cynthia K. Patton, founder of Patton Leadership Consulting and the SheLeads365 Assessment believes. She is passionate about teaching women how to discover the leaders they already are and show them how they can achieve the goals and dreams they have in their personal and professional lives. While Cynthia's company is based in Kansas she always envisioned SheLeads365 as something she could bring to communities across the nation. When she reached out to Dan Elder owner of Topsarge Business Consulting, located in central Texas about bringing the SheLeads365 Seminar to Temple Texas he knew our community was lacking opportunities like this and wanted to help in any way he could. 
Dan was able to connect with local women leaders in the Central Texas community and when he shared SheLeads365 Seminar with them many signed on to be speakers. They are ready to share their knowledge and tactics with other women on what has helped them to become the leaders they are while managing work-life balance, personal wellness, and their careers. 
Meet Three Powerful Women Speaking at the Event 
Patricia J. Sulak, M.D. the Wellness Keynote speaker is the founder of Living WELL Aware™, is a nationally recognized practicing physician, researcher, speaker, and medical school professor. While she is internationally recognized for her work in women's health issues, her current focus is wellness education. Dr. Sulak's truly unique wellness program encompasses all aspects of our health: physical, emotional, social, financial, and spiritual.
Cynthia K. Patton will be sharing her knowledge on work-life balance and networking. From a woman who get's what it is like to do all the things, how to have a career and family, and today has built her entire company on helping others become leaders and build teams she has the knowledge and tools you need to help you take control of your life, avoid burnout and achieve your most audacious dreams. 
Kirsten Cutshall the leadership keynote is the CEO of Steel Branding, a full-service ad agency specializing in Reaching the American Family. Steel is made up mostly of women who put family first – at home and at work. They do this by embracing what makes them different, not for the sake of defying traditional work styles but what works to support the business, their own and the families of coworkers. Despite leading a successful ad agency for the past 20 years, what she is most proud of is that she has been a lunch lady on Fridays at her kids' school and a Girl Scout Leader for the past 10 years.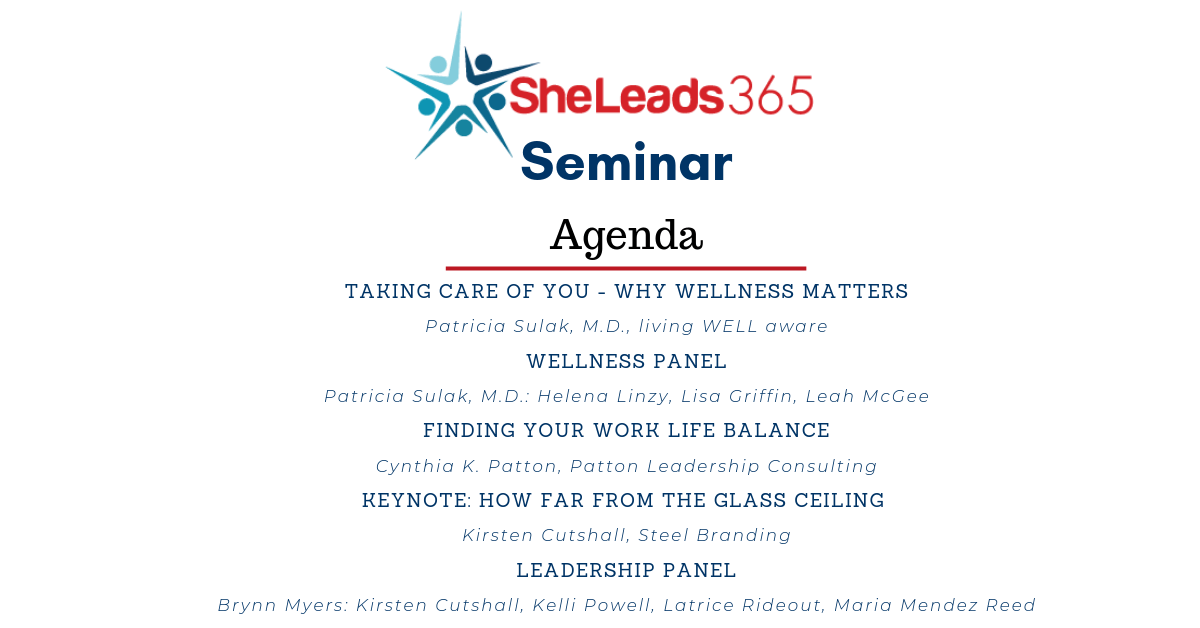 7 More Reasons to Attend this Seminar
Following the morning and afternoon keynotes, we will hear from the panelist on how they have overcome common challenges many women face when trying to balance, family, career, and self. The panels are comprised of powerful leaders in the community who are not only excited to connect and inspire other women in the community but each other as well.
Wellness Panel
Keynote speaker Patrica Sulak, M.D. will lead a panel with three other women to talk about wellness topics including physical, emotional, social, financial, and spiritual.
Lisa Griffin is the Chief Operating Officer for The Carlson Law Firm, P.C. and the Vice President of Advanced Landscapes, which she co-owns with her husband. When she isn't building teams, improving processes and ensuring compliance, Lisa enjoys spending time with her family, which also includes a teenage son and a "dog daughter". You will often find them running trails, volunteering in the community, or traveling together. She is passionate about serving people through both work and recreation. Lisa is currently training for her first 25K trail race. 
Leah McGee Texas A&M University (1995) graduate Leah is today owner of State Farm McGee Insurance Agency. She is a mother to three spirited children, an animal lover, chronic charity volunteer, member of the Killeen Heights Rotary Club, Rotarian of the Year and member of the Harker Heights Chamber of Commerce. She is passionate about wellness and staying active in the community.
Helena Linzy has a Master of Science in Exercise Physiology and a minor in Nutrition.  She has worked in various settings – from biochemical laboratories to the vitamin aisles of Natural Grocers. Her true passion lies in empowering people to take control of their health – mind, body, and spirit – by equipping them with the tools they need to make healthy lifestyle choices. In her free time, you can find her going for a jog or playing ball with her puppy!

Leadership Panel
Brynn Myers is the first woman City Manager of Temple Texas. She will chair the leadership panel with four other women including keynote speaker Kirsten Cutshall. They will talk about their own personal journies in leadership and the unique ways they have overcome the challenges many women face in their careers. 
Kelli Powell began her career in education in 1990 teaching 8th grade English at Martin Special Emphasis Middle School with the Corpus Christi Independent School District (CCISD). In 2016, Ms. Powell relocated to Temple, Texas where she joined the Travis Science Academy IB World School administrative team as an assistant principal.  Ms. Powell now serves as a member of the administrative team at Temple High School. Currently, Ms. Powell is a PhD candidate at Texas A&M University-Corpus Christi. 
Latrice Rideout, Ph. D. is a certified trainer working with Dale Carnegie Training and is focused on improving the performance of individuals, teams, and organizations. Her diverse career began as a mental health and social services professional and has expanded to include career/employment services, organizational training and development, and institutional effectiveness/institutional research. She has also taught as an adjunct instructor at the community college and university levels. She has a passion to empower others towards personal and professional fulfillment.  
Marie Mendez Reed voted 2019 Fort Hood Military Spouse of the Year and founder of Moving with the Military. She once gave up a thriving career as a filmmaker to support her husband's military calling and saw this as an opportunity to reach out to young people and give back to the community as a teacher. Later Maria realized her mission and developed a TV series that would reach a global audience, tell the story of today's military families and help them turn a house into a home. After pitching a proof-of-concept episode Hollywood said, nope your not the right image and this idea is not big enough for TV. That didn't stop Maria. With the help of several military spouses and veterans, she has now taken on the task to produce the series Moving With The Military, a series that not only celebrates military families, but encourages, inspires, and EMPOWERS military spouses to discover their passion. 

Sponsors Make the World Go Round
Thank you to our sponsors. Without your support, this day and sharing SheLeads365 Seminar with the community would not be possible. Each sponsor is playing an important part of empowering women in our community! We are grateful for you! 
Silver Level Sponsors 
State Farm McGee Insurance Agency Inc. 
Leah McGee 254-634-9600 
302 Millers Crossing, Suite 6 Harker Heights, TX 76548
Central Texas Aging, Disability, and Veterans Resource Center
1-855-937-2372
2180 N. Main, Belton, TX 76513
BKCW Tad Dorroh Employee Benefits Advisor 
Tad Dorroh 254-290-9816
2100 Trimmier Rd Suite 100, Killeen, TX 76541
Bronze Level Sponsors
Dr. Jason Raesz (254)778 2225
7348 West Adams STE 700 Temple, TX 76502
Call 1-866-351-4092 for a free consultation 
Event Location Sponsor
254-298-5720
3303 N. 3rd Street Temple, TX 76501
Chair Massage Sponsor
254-290-9406
403 East Stan Schlueter Loop Suite 306 Killeen, TX 76542
3010 E U.S. 190 Suite 112 Copperas Cove, Texas 76522
More to know about the day
We are excited to meet and connect with you on Friday, August 23rd at the Mayborn Convention Center for SheLeads365 Seminar. This is a day-long event with registration beginning at 8:30 am and concluding at 3:30 pm. A lite breakfast and lunch are included in the ticket price. There will also be FREE chair massages throughout the day during breaks as available. The Mayborn Convention Center has set up a New Mother's room during the event as well for your convenience. Like at any development event, you may want to bring a notebook and pen for notes. There will also be networking opportunities so remember to bring your business cards to exchange. If you have any questions about the event please feel free to reach out to event manager Sarah.Hassel@milmediagroup.com.