The Power of Authenticity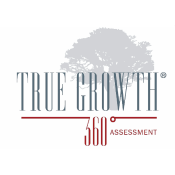 The True Growth® 360 Assessment Tool – Authentic Leader Awareness was developed with professional organizational and individual behavior leaders who understand specific traits of a genuine or authentic leader. This instrument has been used by over 2,000 participants and has been found to be uniquely effective in identifying positive and developmental traits in leaders. The assessment is included in the True Growth® Academy. Clients have an option to include the 360 assessment in the 2-day and 1.5 days. The instrument will assess the training course participant (or an individual who requests an assessment) in 25 behaviors found in an authentic leader. The intent is to have an assessment for each leader completed 14 days prior to the training event. The online Assessment process is very easy to use and is designed to minimize time and effort for both the feedback providers and the feedback receivers. Each participant has their own website created. The site is used to send invitation emails, send reminders, collect survey input, and keep the participant and trainer advised of the 360 status at all times.
TBS is an authorized reseller of the LWMIII Consulting True Growth® 360 Assessment Tool
360-DEGREE MULTI-SOURCE FEEDBACK AUTHENTIC LEADER SURVEY
The proven system provides every participant with a clear understanding of their interpersonal styles, our personalized survey results visually display where an individual's strengths and weaknesses exist. Combined with our certified and credentialed executive coaches who are skilled at Coaching and Development, and through interpreting 360-degree results and facilitating face-to-face and virtual action planning for True Growth®.
The True Growth® multi-source survey support team provides procedures and instructions to participating qualified personnel (those being surveyed) starting with the first cohort via electronic mail. The survey support team guides qualified participants through the invitation process to engage respondents to contribute to their multi-source survey. Categories of respondents include Direct Reports, Peers, Managers, Others, and then each participant also completes a self-assessment. Each respondent is invited by email and requested by the participant to use their best judgment and rate them on a 1-to-6-point scale on 25 important behavior competencies that demonstrate traits of authenticity.