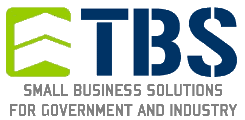 Get to know Topsarge Business Solutions, LLC
TBS is a uniquely qualified small business solutions provider with a reputation for quality that focuses on managing projects with pride. We do that through the use of best-practices that combine our award winning techniques in helping organizations grow and manage change through the use of technology and our collaborative techniques. At TBS we focus on the knowledge management triad of people-process-technology to create organizational change that meet key objectives. Our personnel are well versed in how to manage organizational change through increasing staff productivity, service quality and deliverable consistency by capitalizing on intellectual and knowledge-based assets that.
We are privately held limited liability corporation that offers a wide variety of technology and management services. A VA certified Service-disabled Veteran-owned Small Business (SDVOSB) and a Texas certified Historical Underutilized Business (HUB), our reputation is our strength.
Capabilities Highlights
Changing a culuture requires more than just educating your workforce and new processes; we can manage your project.

We offer Training, Coaching, Consulting, travel arrangement and reservation services to government and third tier customers.

We serve our customers while providing best-practice solutions using a People-Processes-Technology approach.

Web design, portals, social media, and online communities of practice; TBS has long been a leader in government collaboration efforts.