Amazon wish lists helps Teachers
Local consulting firm Topsarge Business Solutions staff wanted to help area teachers clear their school supply list and is running a contest to give away $250 over five days of drawings. After a recent article by the local television station KCEN-TV about teachers creating Amazon wish lists for school supplies, Topsarge Business Solutions got in on the act and set-out to offer to assist five teachers in clearing the list before school starts. Orginally they planned to offer one gift card, but the response was huge. Managing Partner Dan Elder was quoted that "we support our area educators and understand the need they have this time of year." TBS had made social media posts on their Facebook encouraging teachers to Post Their List as an entry to join in on their contest. There is no price to enter, the only rule is the teacher must be currently working (or will be working) as an educator for a school and have publically posted their school supply list.
Attention all Teachers!
The post reads:
Post a link to your school supply wish list for your chance to win an Amazon Gift Card!
Due to the overwhelming response the firm decided instead of handing out one gift card, but instead has offered to give out five gift cards through a daily drawing of $50 Amazon Gift Card. According to KCEN interviews, "Teachers across the country often spend their own money to provide for their students and classrooms." Topsarge agrees. Company Educational Technologist
Dani Patterson
, a former K12 classroom teach stated, "this movement #ClearTheList holds a special place in my heart. I firmly believe that empowering teachers with innovative tools, abundant resources, and ample opportunities not only enriches the educational experience for students but also sends a powerful message of community support to our dedicated educators."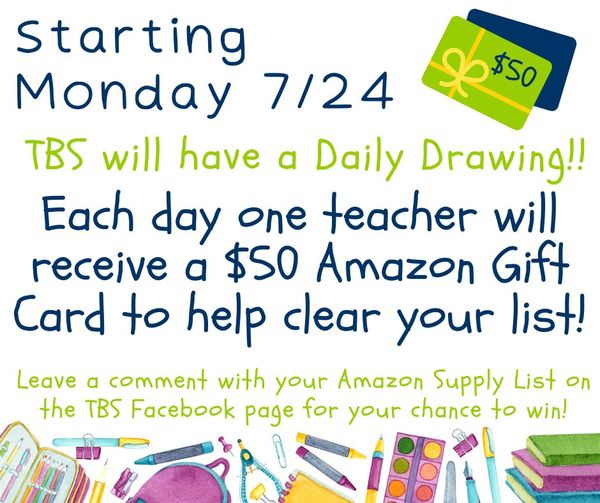 Last day to enter is July 31st, feel free to pass on to all the educators you know.