Develop your staff through Training
Let us help you train and develop your workforce and emerging leaders through Organizational Development via one of our existing corporate training programs, or we can create customized training modules that meet your needs. Whether you are looking to improve team building, customer service, increase sales, communication skills, reduce conflict or build better leaders, Topsarge Business Solutions (TBS) has a training solution. We offer single-topic modules, lunch-and-learns, and half-day and full-day programs that meet your organizational goals.
We also have training developers on hand to help you design and develop customized programs built around our three pillars of development ASSESS-TRAIN-COACH. We offer ICF certified coaches, certified trainers, and facilitators, as well as high-quality personality assessments and 360-degree surveys to help your workforce gain a higher degree of self-awareness. And if you would prefer to use our space for your own training, rent the meeting and coaching rooms for your own uses.
TBS leadership training services, assessments, and professional coaching programs are best used as part of personalized leadership development experiences perfect for human resource specialists, supervisors, and managers.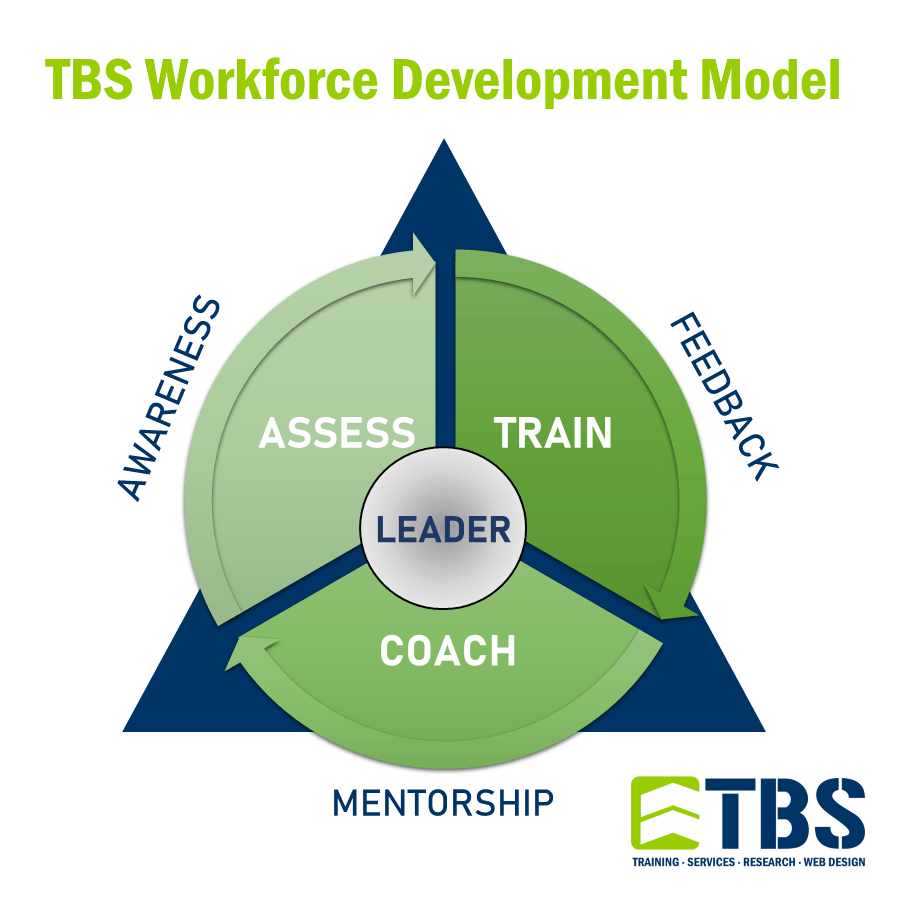 Organizational Development Training Model
Assessment – We use personality assessment and multisource feedback tools that provide individuals with straightforward, practical feedback on job-related skills necessary for effectiveness in a team setting.
Coaching – We use an inquiry-based approach to professional development that is aimed at creating awareness, generating action, and facilitating growth. Our coaches focus on improving performance to develop new perspectives.
Training – Our training programs are in-depth, sophisticated, experiential learning events that allow for skills assessment, reflection on past experience, recognition of behaviors and preferences, and the creation of an action plan for improvement.
Our approaches to employee development:
Career Planning: Having open discussions with your employees about their long term goals.
Performance Management: Make a point of regularly acknowledging good work and providing corrective feedback for areas where improvement may be needed.
360 Degree Feedback: This involves getting feedback from the employee's manager, peers, internal customers, and others in the organization that interacts with him or her on a regular basis.
Coaching and Mentoring: Providing coaching and mentoring opportunities in the workplace can be an excellent employee development activity.
Company Training Needs Analysis: Look at the skills that exist in the current workforce and compare that to the skill needed to perform the company's work today and into the future.
Individual Employee Development: Identify the gap between what employees are able to do today and what skills they need to meet the needs of the organization and to accomplish their own career goals.
Contact us right away for a free consultation and learn more about Organizational Development.