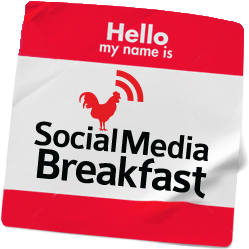 A Social Media Breakfast
I volunteer with the Central Texas Workforce Business Resource Center (http://www.workforcelink.com/newworkforce/brc.html) to lead a monthly Social Media seminar for business people to come out and learn about social customer relations management. It's free  continuing education provided by the BRC, I donate my services.
Here is how it came about. The BRC Program Manager Marcus Carr came upon a grass-root group in Austin called Social Media Breakfast (http://www.socialmediabreakfast.com/) and he thought our town Killeen, TX needed one also. So in Nov 2009 he organized SMB-Killeen, we meet the first Wednesy of each month at Jason's Deli in Killeen 7:30am-8:30am. SMB-Killeen brings together people who are interested in sharing and learning about best practices in social media for their business or organization. This event is free to attend, but attendees pay for their own food/drink. You can see more details here: http://www.socialmediabreakfast.com/killeen/.
We hold classes on a variety of social media tools like Facebook, Twitter, Linkedin, blogs, how to create a Social Media strategy, etc. The BRC  brings in a screen, projector and a wifi hotspot, attendees are encouraged to bring their laptop, iPad or other wireless devices. We usually spend an hour or less together.
We invite you to attend one of our events. Be sure to Like our Facebook fan page to stay up to date on all our activities from here: http://www.facebook.com/SMBKilleen.